Rwanda Re-Opens Kigali International Airport Amidst COVID-19 Pandemic
Rwanda Re-Opens Kigali International Airport and that brings joy to the tourism industry since travellers can now access the country from across the world. Rwanda has been a Gem in Africa's tourism industry having a chance to harbor some of the last species of Mountain Gorillas in Volcanoes National Park (Gorilla Trekking in Rwanda Hotspot). This is the biggest if not the best national park in the country which happens to harbor Golden Monkey species and a marvelous site of Dian Fossey's Grave, a scientific primatologist who fought for the rights of the mountain gorilla's in the park. Rwanda Re-Opens Kigali International Airport and this will be a blessing to those that love to involve in Chimpanzee trekking, Canopy walk and all nature walks in Nyungwe National Park. For the wildlife lovers, they will have a  chance to explore the big five animals in Rwanda (Lions, Buffalos, Elephants, Leopards, and Rhinos), and other amazing wildlife species like zebra's giraffes, warthogs, e.t.c
Rwanda becomes one of the first African countries to reopen their Kigali International airport after a country-wide lockdown because of the COVID 19 pandemic. Rwanda is surrounded by Uganda, Tanzania, Burundi and Congo. Much as the international airport has been opened, the borders are still closed because the neighboring countries are still closed except Tanzania which has also opened it international airports.
Kigali is the capital city of Rwanda country with a population of 2million people, and it holds Kigali International airport, and because of this, Kigali has a lot of tourism activities do in the city; Kimironko market visit, genocide memorial sites, and other attractive activities.
Rwanda as a country controlled Covid 19 pandemic with few-death cases, but the pandemic was controlled by putting Standard Operation Procedures – SOP in practice, washing hands, not touching the soft parts, social distancing, and putting on masks. Rwanda country has a population of 12million people.
Rwanda Re-Opens Kigali International Airport though strict rules, procedures, and requirements have been put in place to cub the CORONA  VIRUS pandemic that has claimed many lives across the world.
Requirements to enter into Rwanda after covid 19
Passport validity for the next 6 months.

Blank passport pages, at least 1 page

Tourist visa required

Vaccinations; Yellow fever vaccine and Covid 19 test

Currency restrictions for entry; not an issue

Currency restrictions for exit; not an issue
The procedure once guests reach the airport
The hotel driver will pick you from the airport and drive you directly to the hotel booked where you will do your COVID 19 test. This exercise takes 24hours to get back your results.

All guests must have been tested with in the last 72 hours that is 3 days before they start to travel to Rwanda.

All guests arriving at the Kigali airport will be screened and then shown their figures and then they proceed to the hotel.

The Government of Rwanda negotiated with the selected hotels (listed in the table below) who will be handling guests on arrival in order to carry out their covid 19 tests. That means, the guests must finish 24hours in the lodge till they receive their results through messages or emails after which they can Explore Rwanda on a tour.

The selected hotels will be giving the guests full board meals, (Breakfast, Lunch and Dinner) after paying the fees to the lodge, there is no refund.

Meals – Breakfast, Lunch and Dinner. Soft drinks are free but not hard drinks.
Procedures once you have reached the Hotel booked;
Immediately you will be tested for covid 19. You required paying $10 dollars for the medical team and $50 for covid 19 tests.
The cost for COVID 19 test is $50. The hotel will advise on how to pay for tests.
After the tests are done, you will have to wait for the results with in 24hours by either message or an email.
If your tests are negative, then you will be allowed to proceed with your trip plans or remain in the same hotel for more days if you wish, BUT this time at a negotiated rate between the hotel and the guest.
If the results are positive, then you will be referred to a medical facility for medical attention at your own expense. The Government of Rwanda encourages tourists to always get a travel Insurance policy.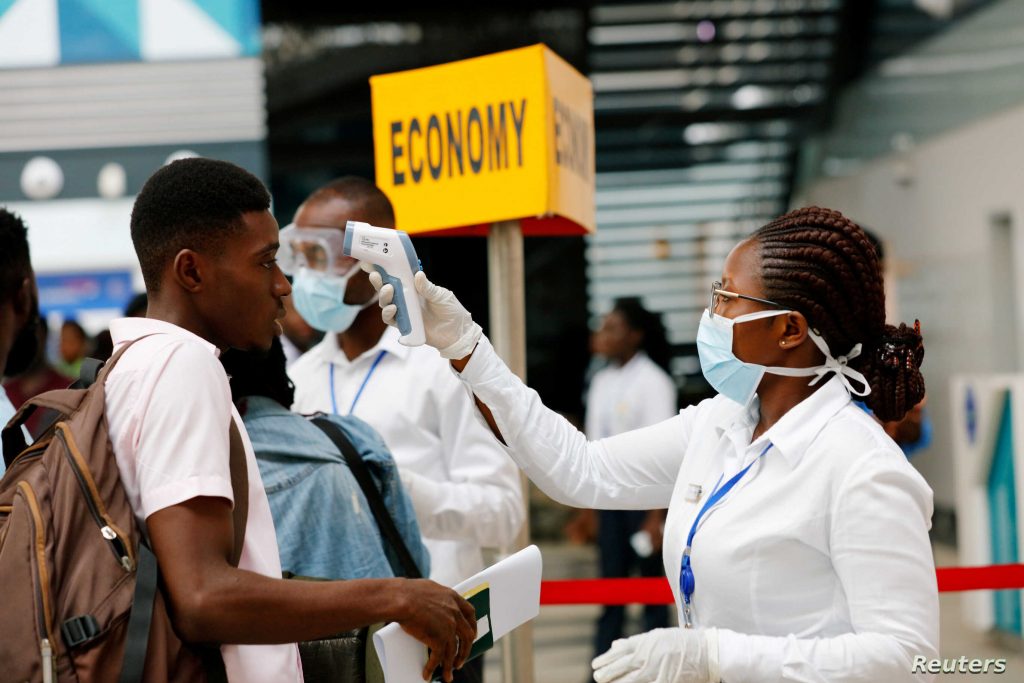 The Selected Hotels by Government to handle quarantine with guests.
No
Hotel Name
Level 

(Star)

Location 
Room rate3 per person
Telephone or email

1

Kigali Marriott Hotel

5

Kiyovu

$200

+250 725880724

2

Radisson Blu Hotel

5

Kimuhurura

$170

+250 252 252 252

3

Kigali Serena Hotel

5

Kiyovu

$170

+250 788200422

4

Hotel Des Milles Collines

4

Kiyovu

$150

+250 788303324

5

Grand Legacy Hotel

4

Remera

$140

+250788303483

6

Lemigo Hotel

4

Nyaruratama

$140

+250738785048

7

Gorillas Gold Hotel

4

Kimihurura

$130

+250788174000

8

Park Inn 

By Radisson

4

Kiyovu

$120

+250788330045

9

Ubumwe Grande Hotel

4

Kiyovu

$100

+250 788863995

10

Hotel Villa Portofino

3

Nyarutarama

$70

+250 788971444

11

Dove Hotel

3

Gisozi

$70

+250 788771562

12

Quiet Haven Hotel

3

Nyarutarama

$60

+250 786689763

13

Great season Hotel

3

Gacuriro

$60

+250 783814000

14

The Mirror Hotel

3

Remera Gisment

$50

+250 783705716

15

Greenwich Hotel

2

Remera

$40

+250 783761086

16

The Nest Kigali

2

Kimihurura

$65

+250784131375

17

Karisimbi Hotel

2

Kiyovu

$90

+250 784 649686
The Rwanda Kigali Hotels that have been selected by the government of Rwanda will handle all guests of Rwanda as a country until further notice. The Government of Rwanda will continue to update you in fighting Covid 19 pandemic. The ministry of health has continued to advise that ;
Proper wearing of face masks

Washing your hands every time 

Social distancing.
For inquiries, please contact the ministry of health through;
Toll-free number: 114

RBC Medical Team on Duty at Airport +250 781415724

Email: covi@rbc.gov.rw.